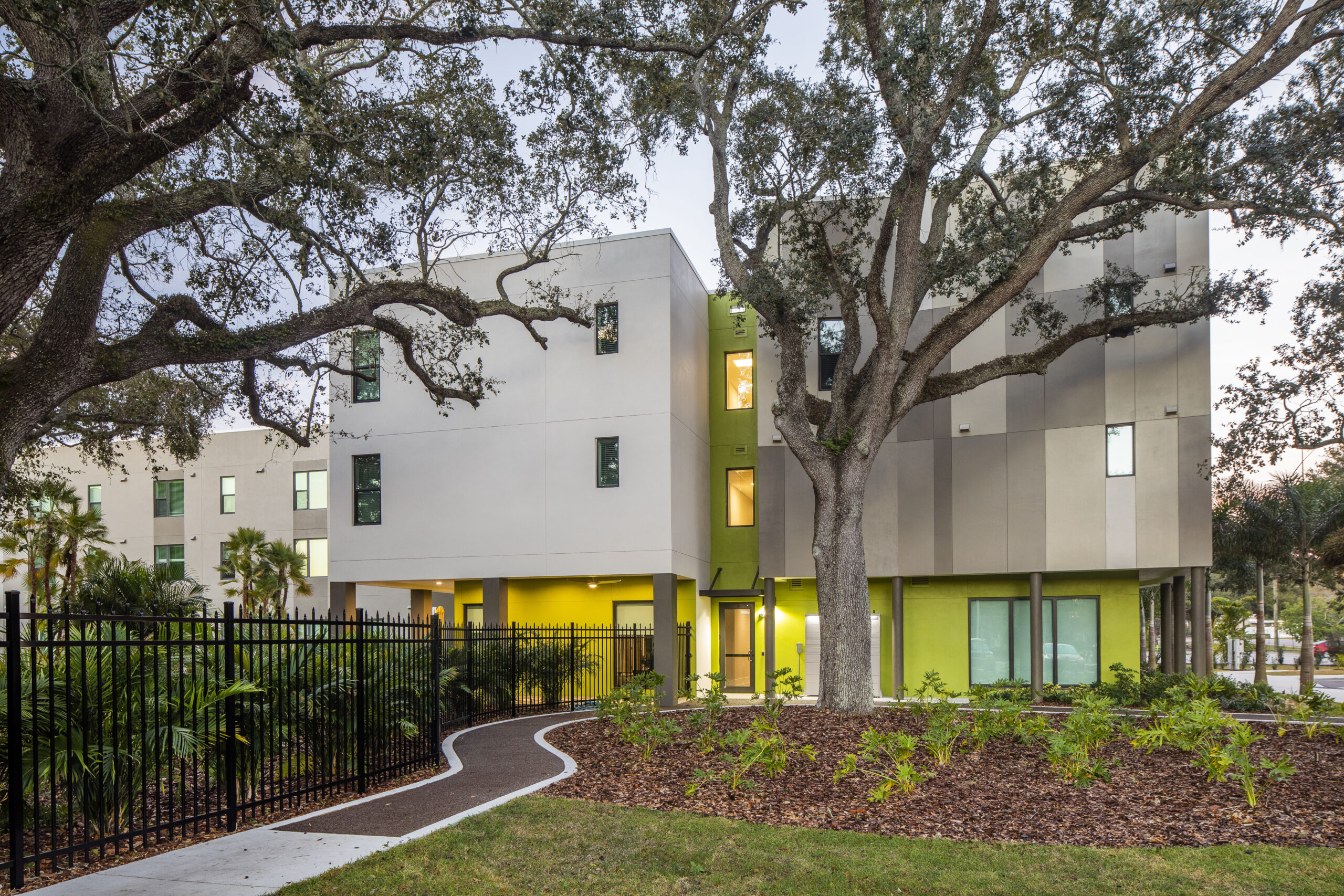 By Margie Manning
Catalyst
Two Tampa-St. Pete companies have found a path for success for affordable housing development.
Bowen Arnold, principal of Tampa-based DDA Development, and Tim Clemmons, principal of PLACE Architecture in St. Petersburg, discussed their approach in a conversation with the St. Pete Catalyst.
DDA and PLACE first worked together on Campbell Landings, an affordable senior apartment building with 96 units at 365 6th St. S. in downtown St. Petersburg, and have since collaborated on two projects with Gracepoint Wellness in Seminole Heights East in Tampa. The Graham at Gracepoint is a 90-unit project serving a mix of formerly homeless persons and seniors. An adjacent building, The Heights, which opened in December, is a 64-unit complex with 70 percent of the units set aside for persons with disabilities, in addition to seniors.
The Gracepoint projects have many of the same features and fixtures that a market-rate apartment would have, such as nine-foot ceilings, walk-in closets, Energy-star rated appliances, higher-end cabinetry, island kitchens and ample storage.
While there's an acute need for affordable housing, developing the projects has challenges, Arnold said.
"The availability of financing is the most important thing. Everyone knows there's a need and a huge demand but it's a very competitive landscape to try to get money," Arnold said. "Federal programs like the tax credit program that are the most viable source and those are very competitive programs."
The federal Housing Credit program provides for-profit and nonprofit organizations with a dollar-for-dollar reduction in federal tax liability in exchange for providing equity financing for the rehabilitation or new construction of low and very low-income rental housing units. In Florida, a state agency, the Florida Housing Finance Corporation, administers the program.
"It's largely beneficial but they put a lot of requirements on developers for these projects. In many ways they're better built than market-rate apartment projects," Clemmons said.
Neighborhood objections to affordable housing are not as big an issue as they used to be, both Clemmons and Arnold said, in large part because the projects are well-built and well-designed.
"People used to carry a lot of images from the larger housing projects built from the 1940s to the 1970s and that's not what this program does. You put 50 units here, you put 100 units there, you don't build huge complexes," Clemmons said. "We want them to feel they are part of the neighborhood, we want them to feel they are part of the community. We're very aware of that during the design process."
One way developers such as DDA can bring market-rate features to affordable projects is by paying less for the land, Arnold said.
"We typically pay a little less for land so projects end up costing about the same. In a market rate deal, you might pay $30,000 a unit for land. In the Gracepoint deal, we paid $6,000 or $7,000 a unit. We had a significant savings up front," Arnold said.
DDA also leveraged its relationships with its vendors to get a favorable outcome.
"When we were doing The Salvador (an upscale condominium project in downtown St. Petersburg) and Graham at same time, we had the same architect, we had the same venetian plasterer, we had some custom furniture. We used a lot of the same vendors. We joked we were probably the only guys in the country doing a high-end condo and a homeless project at the same time," Arnold said. "A lot of those vendors enjoyed working on both projects."
There's a practical reason to bring quality features and fixtures to affordable projects, Clemmons said.
"These projects are required to be set aside for the population they serve for 50 years and most of the initial developers hold on to those projects for 15 years or so," he said. "That gives a built-in incentive for the developer to build something that will lower operation and maintenance costs for the next 15 to 50 years."
It's a good business practice as well, because quality projects will attract long-term tenants who care for their homes, Arnold said.